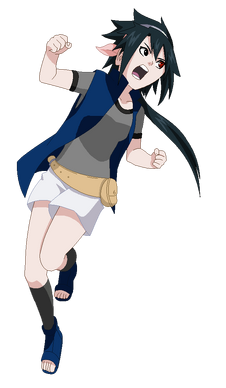 mimi's story
   mimi is a 12yr old genin level shinobi. who graduated from the academy at age 11. her parents are itachi uchiha and sasuke uchiha she was born right after her parents returned to konoha,along with the rest of her four siblings. (note: this is an entirely different timeline! sasuke had turned himself female in order to have kids. and after the births turned back into man) 
     at the age of 7 mimi had entered the academy, when she did nobody liked her or her siblings due to the fact that their parents were brothers, and because of that she and her family were called the inbred family of konoha, but this did not stop her from already acceding the teachers expectations and making the top of her class in just 1 year, although talented like her father,itachi, she did not graduate until the age of 11. during her academy days mimi had met a girl by the name of midori uzumaki, the daughter of Naruto uzumaki and hinata uzumaki. their relationship mirror's that of sasuke and Naruto, but later on they soon become "secret lovers". mimi also has four siblings, 2 younger sisters and 2 older brothers. their names: sasaki,makoto,daisuke and their 17 yr old brother hisoka.
     mimi has this fear of drowning due to almost drowning at the age of 5, she never liked stepping into the water but for only bathing. but soon her rival/lover helped her conquer that fear by helping her through.

Ad blocker interference detected!
Wikia is a free-to-use site that makes money from advertising. We have a modified experience for viewers using ad blockers

Wikia is not accessible if you've made further modifications. Remove the custom ad blocker rule(s) and the page will load as expected.